The Anatomy of Personality
The Part I features complete descriptions of the types as well as specifics for identifying them.
The Training combines grounded, intellectual understanding with a variety of experiential approaches that give participants a clear feel for the inner world of each type. Further, we employ the comprehensive framework of the Levels of Development to add depth and richness to our discussions. The Levels are essential because they account for differences between individuals of the same type, discriminate between similar types, and help clarify the many irregularities and subtleties of each type—thus making wide-ranging practical applications and personal growth possible.
For each personality type, topics covered include:
The Riso-Hudson Levels of Development
The Inner Dynamics: Paths of Integration, Disintegration/ Stress, Security, and the 'Missing Piece'
Early Childhood Development and Object Relations Patterns
The Essential Qualities
The Passions & Fixations
Experiential Exercises
Art, Poetry, Movement and Music to illuminate the types
Those attending will receive a 400-page English manual of unpublished materials for the fee of 6,000 yen.
Enneagram Institute offers the three-part Enneagram Training Program. The comprehensive and extensive training gives participants the actual sense of substantial knowledge and deep experiential understandings of Enneagram. A certificate will be given at the end of each program.

Click here for more details of the training.
http://www.enneagraminstitute.com/TrainPro.asp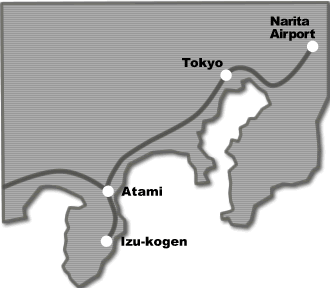 Obirin-gakuen Izu-kougen Club
1317-624,futo ito-shi, Shizuoka, Japan
▶By Train
 [JR Exp.Odoriko]
 Tokyo sta.→Izu-kogen sta.
 Or
 [JR Tokaido-Shinkansen]
 Tokyo sta.→Atami sta.
 [Izu-kyu line]
 Atami sta.→Izu-kogen sta.
 From Izu-kogen sta.
 to Obirin-gakuen Izu-kougen Club
 15min. by Taxi